10 Things you need to work on daily basis for SSB
Are you preparing for SSB interview? You must understand this well in advance that test conducted at SSB are to evaluate the qualities imbibed within you. The interview involves a battery of psychological test to assess the candidates personality.
Therefore you must work on the following on daily basis: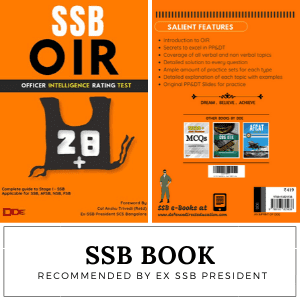 1). Write at least 1 sentences for WAT, 1 story for TAT and solve at least 1 SRT. Review your answer and note down the positive and negative qualities that you have encountered.
2). Get a notebook and note down at least 1 strength and 1 weakness within you. You are more truthful and sincere if you can identify your weakness.
3). Get to know about at least one global issue e.g. Afghanistan crisis. DO NOT MUG UP. Learn what is happening around you. Your ultimate focus should be on understanding the issue.
4). Write whatever you have learnt about the issue on your notebook and consequently Work on your writing speed. Your handwriting should be legible and understandable.
5). Get a Book (be it novel, fiction anything) and read it on daily basis. This should be your alternative to using mobile phones before going to bed.
6). Go out – Look into the clouds and form any story that you can perceive seeing various designs and shapes. Do this because picture shown during PPDT is hazy and unclear. One can perceive anything.
7). Narrate the same story in front of a mirror without seeing what you have written. If possible record a video of you narrating a story and further analyze the same to figure out flaws in your facial expression, standing/sitting posture, hand movement and other body language.
8). Do at least some physical activity e.g playing, running, cycling, walking, dancing.
9). Solve puzzles, brain teasers etc lively and actively.
10). Watch at least one TED talk every few days