DRDO Abhyas is a high-speed expendable aerial target (HEAT) being built by the Aeronautical Development Establishment (ADE) of the Defence Research and Development Organisation (DRDO) for the Indian Armed Forces. Abhyas offers a realistic threat scenario for the practice of weapon systems for the Indian Air Force.
Aeronautical Development Establishment (ADE) is a key Aeronautical Systems Design Laboratory under DRDO. It is involved in the design and development of state-of-the-art Unmanned Aerial Vehicles (UAV) and Aeronautical systems and technologies to meet the requirements of the Indian Armed Forces.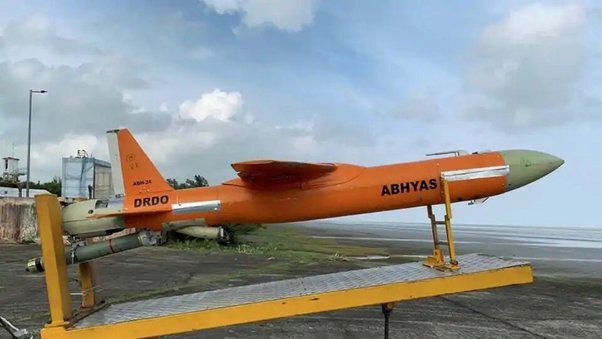 Features of DRDO Abhyas
It is a drone (UAV) that will be used as a target for various missile systems.
It is powered by a small gas turbine engine.
Navigation by Micro-electromechanical (MEMS) systems based on Inertial Navigation System (INS) for navigation.
MEMS is a process technology used to create tiny integrated devices or systems that combine mechanical and electrical components.
It is light and reliable, consumes less power, and is cost-effective.
Programmed for fully autonomous flight.
Design
The fuselage for the Abhyas was designed by adopting the DRDO Lakshya tow body.
The fuselage consists of five sections, namely the nose cone, equipment bay, fuel tank bay, air intake bay, and tail cone.
The materials used for the nose and tail cones are made up of Glass Fibre Reinforced Polymer(GFRP) and for equipment bay, air intake bay, and fuel tank are made up of an aluminum steel alloy.
For propulsion it is fitted with a gas turbine engine weighing 19 kg, having a thrust of 25 kg, with an endurance of 30-45 minutes that can cover a distance of 400 km.
Abhyas is GPS-enabled and has an onboard flight control computer and a miss-distance indicator.
It is also designed for autonomous flight with the help of an autopilot.
The radar cross section is increased 50 times to emulate a fighter aircraft.
Flight Profile
The Abhyas is launched from a mobile launcher with the help of two booster rockets.
The twin rocket boosters help in providing the initial acceleration until the small turbojet engine starts to sustain high subsonic speed.
At the end of its launch phase, the burnout booster rockets are jettisoned.
Thereafter, the main gas turbine engine powers the vehicle during the cruise phase.
It can fly at speed of 180 meters per second and cover 5 km altitude.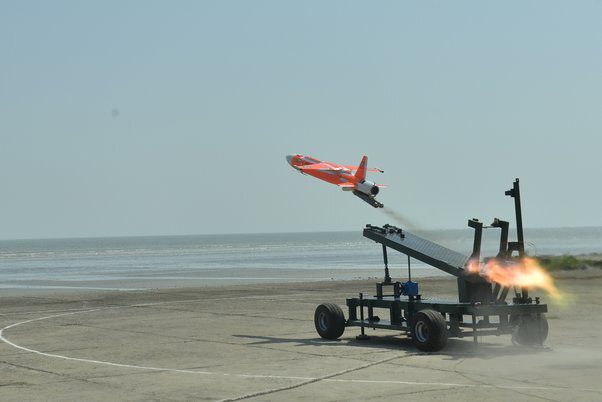 Usage
Abhyas's radar cross section (RCS), as well as its visual and infrared signatures, can be augmented to simulate a variety of aircraft for anti-aircraft warfare practices and testing of surface-to-air missile(SAM) systems.
It can also function as a jammer platform and decoy.
The HEAT system is utilized to do away with the post-launch recovery mode for the Indian Navy.
Trials
Defence Research and Development Organisation (DRDO) successfully conducted the flight test of indigenously developed high-speed expendable Aerial Target (HEAT) Abhyas from the Integrated Test Range (ITR).
During the flight trail, a high subsonic speed trajectory at a very low altitude with high endurance was demonstrated.