Nation mourns for Cdr Nishant Singh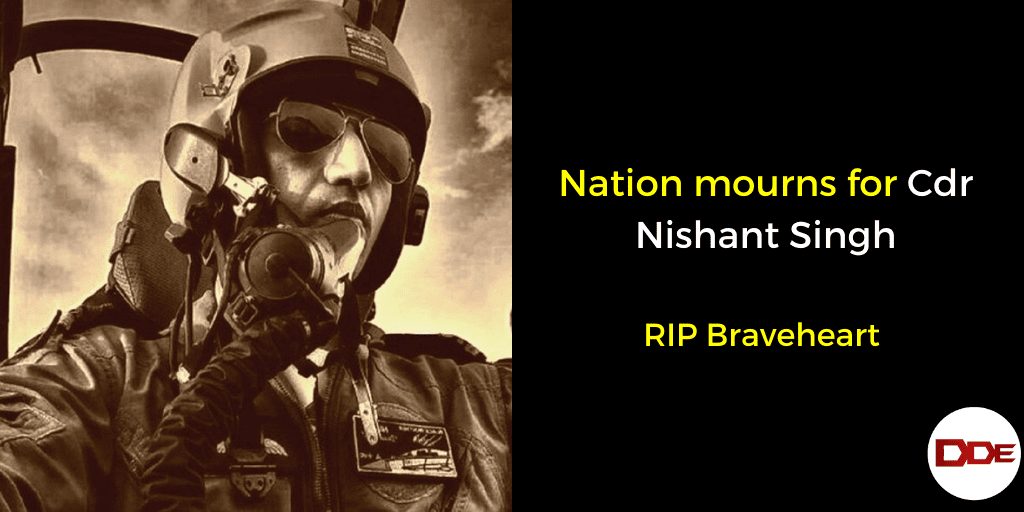 The Nation has lost a finest Naval Fighter Pilot. Indian Navy has recovered the body of the missing MiG-29K pilot Commander Nishant Singh on the seabed 70 meters below water. It has been found 30 miles off Goa coast after extensive search. The another Pilot is recovered. The aircraft had crashed on Nov 26 at 5:30 pm while operating over Arabian Sea.
Cdr Nishant Singh was a Naval Fighter pilot who was operating from INS Vikramaditya. He was the instructor for the trainee pilot during the Crash. The trainee pilot and Cdr Nishant Singh were part of INAS 300 squadron. The search operations went for 11 days after crash. The Naval assets like P-8i Anti-submarine Aircraft, Naval Helicopters and other Naval Ships were included in the Search Operation.
Seven months ago, Commander Nishant Singh wrote letter to his commanding officer to sought the permission for  his Marriage. The Images of letter and reply of Commanding Officer went viral on social media. The humor, Commander Nishant Singh writes the letter titled "permission to bite the bullet ". The Commanding Officer wrote back "Saw the spark in you and always believed you were different".
Thank you Commander Nishant Singh for your service, you will be remembered forever.
Also Read : Legacy Of INS Viraat | Grand Old Lady – All You Need To Know
---
BOOKS BY DDE FOR DEFENCE ASPIRANTS
HIGHEST SUCCESS RATE 
---
Start your SSB preparations with these specially curated ebooks.
Stage 1 SSB – SSB Oir ebook
SSB Psychology Test – Click Here
SSB Group Tasks  – Click Here
Thematic Apperception Test – Click Here
Situation Reaction Test – Click Here
---