New Indian Navy Flag
Indian Navy has got its new flag. The new ensign consists of the national flag in the upper left canton, and a navy blue-gold octagon at the centre of the fly. A blue octagonal shape with the national emblem sits atop an anchor.
Resonant to the ongoing national endeavour to move away from colonial past, need was felt to transition to a new design that drew inspiration from our history. The White Ensign identified nation-wide with the Navy, now comprises of two main constituents – the National Flag in the upper left canton, and a Navy Blue – Gold octagon at the centre of the fly side (away from the staff). The Octagon is with twin golden octagonal borders encompassing the golden National Emblem (Lion Capital of Ashoka – underscribed with 'Satyamev Jayate' in blue Devnagri script) resting atop an anchor; and superimposed on a shield. Below the shield, within the octagon, in a golden bordered ribbon, on a Navy Blue background, is inscribed the motto of the Indian Navy 'Sam No Varunah' in golden Devnagriscript.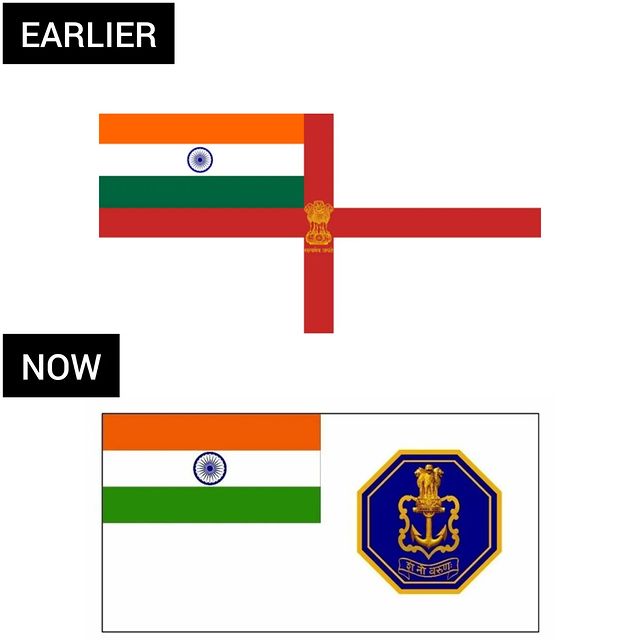 The design encompassed within the octagon has been taken from the Indian Naval crest, wherein the fouled anchor, which is also associated with colonial legacy, has been replaced with a clear anchor underscoring the steadfastness of the Indian Navy.
In August 2022, the Prime Minister's Office announced that the naval ensign featuring the St. George's Cross would be irrevocably disposed of, in favor of a newer design that would "do away with the colonial past" and reflect the "rich Indian maritime heritage". The revised ensign, which happened to be its fourth alteration since 1950, was unveiled for the first time by prime minister Narendra Modi on 2 September, at the commissioning ceremony of aircraft carrier INS Vikrant.
The new ensign, upon adoption, is expected to be flown atop all Indian naval warships, ground stations and naval air bases.