SSB Rapid Fire Questions
In the second stage of SSB one goes through rapid fire questions in personal interview. There he faces either deputy president or president of the board. The session can be as long as an hour. However an average interview will last at least for 30 minutes.
Interviewing Officer will give you enough time to settle down. He will make you comfortable enough so that you share everything with him in detail. Be truthful, always. He has an experience of 10-15 years, and will not take much time to identify the truth by twisting the question in different ways.
What kind of questions are asked in Interview is altogether a different subject and will be covered later in upcoming blogs. As of now lets begin with RAPID FIRE.
Lets start with the set of rapid fire questions asked in SSB:
1) Tell me about your education from class Xth?
2) Percentage of marks secured in each class?
3) What are your future carrier options?
4) About all the competitive exams you gave together with their result.
5) Teachers who have made an impression on you and those who could not.
6) Any Boy/Girl closer to you? Tell me in Brief.
7) Your achievement in sports and extra curricular activities.
8) Let me know if there is any problem in financing your education.
1) Talk to me about your parents? what do you think of them
2) Tell me about your bother/sister & their education qualifications
3) Whom do you share your problems with?
4) Talk to me about your neighbours, friends
5) Do you get pocket money? How do you manage your expenses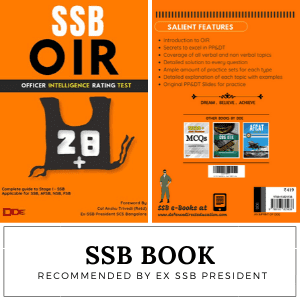 1) What do you do in your spare time?
2) What are your interests and hobbies?
3) What books do you read?
4) What do you watch on Television?
5) What do you browse on internet?
6) Tell me about your daily life routine
7) What do you do on Sundays / holidays?
WHAT YOU SHOULD DO ?
Now Don't worry, he will first make sure that you are comfortable enough and then begin with his questions. The aim is to ask you short questions simultaneously so that the reality comes out automatically. Moreover he may ask you a set of questions together and may interrupt you in between your answers. Your objective should be to answer him whatever he has asked you. He will also assesses your confidence, mental stamina and ability to handle pressure.
He expects you to comply with him in terms of speed.
Be quick, Be confident, Be loud & audible. You can always add humour to your answers.