Territorial Army Notification 2021. Young citizens who wish to don the uniform and serve the nation as Territorial Army Officers can apply. The notification is expected to be published in the last week of May 2021.
CONDITIONS OF ELIGIBILITY:
(a) Nationality: Only citizens of India (male and female).
(b) Age Limits: 18 to 42 years on the date of application.
(c) Educational Qualifications: Graduate from any recognized university.
(d) Physical Standards: A candidate must be physically and medically fit in all respects.
(e) Employment:Gainfully Employed.
ALSO READ : Meet Major Pradeep Arya Of Territorial Army Para SF
FEE DETAILS:
Candidate's are required to pay a fee of Rs 200/- (Rupees two hundred only). Candidates should note that payment of examination fee can be made only through the modes prescribed at website. Payment of fee through any other mode is neither valid nor acceptable. Applications submitted without the prescribed fee/mode shall be summarily rejected. Fee once paid shall not be refunded under any circumstances nor can the fee be held in reserve for any other examination or selection.
SELECTION PROCEDURE:
(a) Candidates whose application forms are found correct will be called for screening (written exam followed by interview only if passed in written exam) by a Preliminary Interview Board (PIB) by the respective Territorial Army Group Headquarters.
(b) Successful candidates will further undergo tests at a Service Selection Board (SSB) and Medical Board for final selection.
(c) Vacancies of male and female candidates will be determined as per organisational requirement.
STANDARD AND SYLLABUS OF THE EXAM:
The standard of the papers in Elementary Mathematics will be a Matriculation level. The standard of papers in other subjects will approximately be such as maybe expected of a graduate of an Indian university.
ALSO READ : Can A TA Officer Serve Permanently In Indian Army
Paper – I. Reasoning and Elementary Mathematics.
(a) Part – 1. Reasoning: The question paper will be designed to test the candidates ability to complete sequences making logical conclusion based on simple patter of numbers, statements, figures, letters etc as may be expected of a rational thinking person without any special study of the subject.
(b)Part – 2. Elementary Mathematics : The question paper will consist questions from Arithmetic, Algebra, Trigonometry, Mensuration, Geometry and Statistics.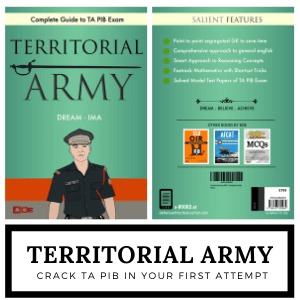 Paper – II. General Knowledge and English.
(a)Part – 1. General Knowledge: General knowledge including knowledge of current events and such matters of everyday observation and experience in scientific aspects as may be expected of an educated person who has not made a special study of any scientific subject. The paper will also include questions on history of India and geography of nature which candidates should be able to answer without special study.
(b)Part – 2. English: The question paper will be designed to test the candidates' understanding of English and workman – like use of words. Questions in English are from synonyms, antonyms, reading comprehension, Para jumbles, error spotting, jumbled sentences, sentence correction and fill in the blanks.
Important Dates :
| | |
| --- | --- |
| Exam Notification Date : | May 2021 (Tentative) |
| Last Date For Online Submission : | June 2021 (Tentative) |
| Admit Card : | July 2021 (Tentative) |
| Date Of Examination : | July 2021 (Tentative) |