AFCAT (2) 2022 GK Questions
AFCAT (2) 2022 GK questions. Aspirants across India took AFCAT (2) 2022 to join Indian Air Force in flying, technical and ground duty branches. AFCAT exam is an online test conducted by C-DAC on behalf of the Indian Air force. Indian Air Force recruits exceptional men and women through this entry.
Around 20 – 25 questions are asked in the General Knowledge section of AFCAT exam. The question are asked from Science, History, Geography, Polity, Sports, Defence and Current Affairs. Attempting good number of questions in this section can help you score good marks in the exam. A score of more than 200 is also advantageous when determining merit.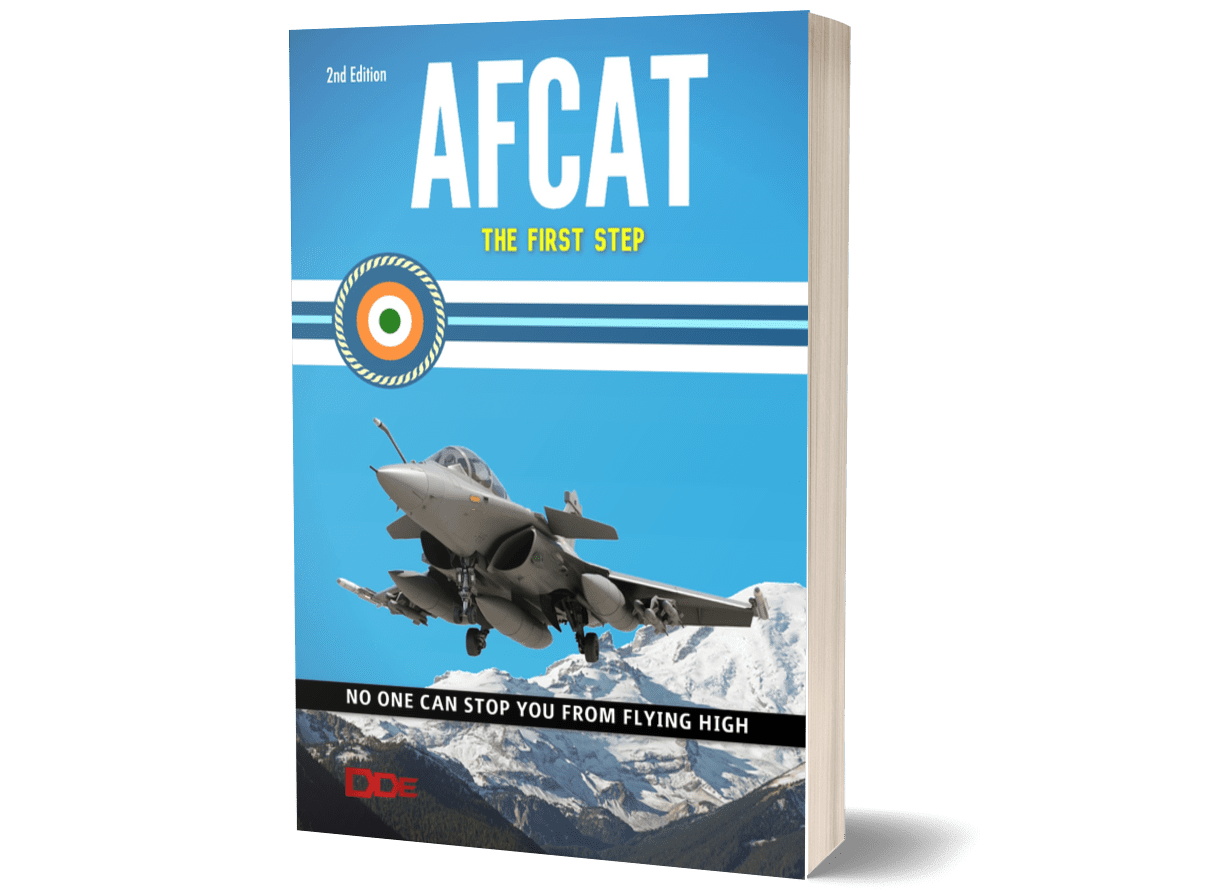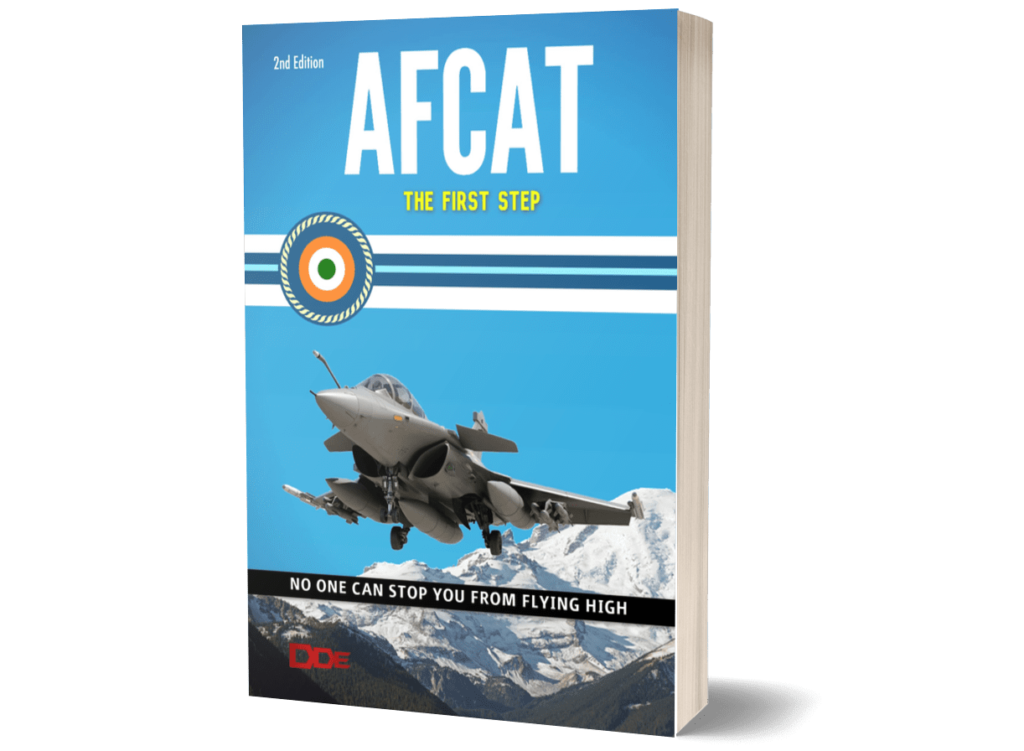 How to Prepare For AFCAT exam?
Candidates preapring for AFCAT exam must refer AFCAT – The first step book.
The book is divided into four in-depth sections, each of which includes numerous practise questions to help you become exam-ready. The general knowledge section includes more than a thousand questions about current events, sports, the military, history, geography, politics, science, the arts, and other topics.
Solve your numerical questions with amazing tricks which helps you to approach all the variants so that you can answer them with ease. The verbal ability section also covers logics, approach & practice set to be confident enough in English.
The reasoning and military aptitude section includes verbal and non-verbal reasoning, spatial ability, rotated blocks, hidden figures etc. and will help you know all variants of questions asked.
Afcat (2) 2022 GK Questions
Q. The study of inland water is known as?
Ans. Limnology
Q. The rule of Krishna Deva Raya is known as golden age of
Ans. Telugu Literature
Q. Where is the Headquarter of ICG?
Ans. The Hague, Netherlands
Q. What is Supernova?
Ans. Explosion of a star
Q. How many hymns are there in Rigveda?
Ans. 1028
Q. What is the motto of the Territorial Army?
Ans. Savdhani Va Shoorta (Vigilance and Valour)
Q. Which fighter aircraft has the ability to carry Brahmos?
Ans. Su-30MKI aircraft
Q. What is the largest ecosystem of the earth?
Ans. The World Ocean
Q. What is the light house of the Mediterranean?
Ans. Stromboli Volcano
Q. Which instrument is used to measure humidity?
Ans. Hygrometer
Q. What is the name of probe sent to Saturn by NASA, ESA & Italian space agency?
Ans. CASSINI
Q. Which of the following are separated by a 10-degree channel?
Ans. Andaman Islands and Nicobar Islands
Q. What is the working principle of hydrogen bomb?
Ans. Nuclear fusion
Q. Where is the headquarter of United News Agency?
Ans. New Delhi
Q. Which district has received Prime Minister's Award for Excellence in 2021?
Ans. Datia, Madhya Pradesh
Q. Nusantara is the new capital of which country?
Ans. Indonesia
Q. What is the Motto of the Indian Army?
Ans. Service Before Self
Q. What is the motto of Indian Coast Guard?
Ans. Vayam Rakshamah – which translates from Sanskrit as "We Protect"
Q. Who appoints the members of State Public Service Commission?
Ans. Governor
Q. What was the theme of the World Environment Day 2022?
Ans. Only One Earth
Q. The term 'Regatta' is associated with which sports?
Ans. Boat Race or Rowing
Q. Which valley has the largest coal deposit in India?
Ans. Damodar River Valley
Q. Uranium is used to measure what?
Ans. Age of rocks
Q. Who is the author of Netaji Subhas Chandra Bose's Biography?
Ans. Chandrachur Ghose
Q. Sampriti Military Exercise is conducted with which country?
Ans. Bangladesh
Q. What is the language of the Buddhist texts?
Ans. Pali
Q. The term 'Pitcher' is used in which sports?
Ans. Baseball
Q. Who was the lyricist of the song "Ae Mere Watan ke logo"?
Ans. Kavi Pradeep
Q. Who is called "Springing Tiger"?
Ans. Netaji Subhash Chandra Bose
Q. Which is India's first nuclear Submarine of Indian Navy?
Ans. INS Chakra
Q. Which Helicopter was developed by DRDO to launch anti-tank missile?
Ans. Helina
Q. What is the first ballistic missile of India?
Ans. Prithvi
Q. What is the motto of Paralympics?
Ans. Spirit in Motion
Q. What is the Indigenously launched covid vaccine in India?
Ans. Covaxin
Q. Which is the first city to initiate flood early warning system in India?
Ans. Kolkata
Q. Shanti Swaroop Bhatnagar Award is related to what?
Ans. Science and Technology
Q. Who won gold in 2020 Paralympic javelin throw?
Ans. Sumit Antil
Q. Global Competitiveness Index (GCI) is released by which organisation?
Ans. The World Economic Forum
Q. Operation Trident is related with?
Ans. Indian Navy
Q. Who won Tokyo Olympic medal in Javelin Throw?
Ans. Neeraj Chopra
Q. Who was the first commander in chief of Indian Army post-Independence?
Ans. General K M Cariappa
Q. Women Empowerment Day is celebrated on which date?
Ans. 8 March
Q. Which type of image is formed in Retina?
Ans. Real and inverted image
Q. Apache helicopter is what kind of helicopter?
Ans. Attack helicopter
Q. Jamshedpur is situated on the bank of which river?
Ans. River Subarnarekha
Q. World Tobacco Day is on which date?
Ans. 31 May
Q. Which instrument is used for measuring the distance traveled by a vehicle?
Ans. Odometer
Q. Which is the first Indian Captain after Independence?
Ans. Lala Amarnath
Q. White Lily is the national flower of which country?
Ans. Bangladesh
Q. What was the T.B Day 2022 theme?
Ans. 'Invest to End TB. Save Lives.'
Q. Which Tribal movement started in 1899 and 1900?
Ans. Munda Rebellion
Q. Tabo Monestery is located in which state?
Ans. Himachal Pradesh
Q. India has signed an agreement with which country for development of Air-launched unmanned aerial vehicle (ALUAV)?
Ans. United States
Q. Ustad Asad Ali Khan is related to which instrument?
Ans. Rudra Veena
AFCAT (2) 2022 GK Questions : Download PDF