India is set to buy the American made MQ-9 Predator Armed drones from General Atomics Aeronautical Systems. The deal expected to be signed for 30 Armed drones valued at 3 billion drones. The Predator drones would add the aerial advantage to the forces deployed in LAC and Indian Ocean Region.
In the mid of November, the Indian Navy leased the two predator drones to conduct Surveillance in the Indian Ocean Region. Indian Navy is expanding its surveillance and Maritime Patrolling capabilities. The two predator drones operated from Naval base INS Rajali involved in surveillance Operations for several weeks and this made the pavement to procure the 30 Armed Predator drones.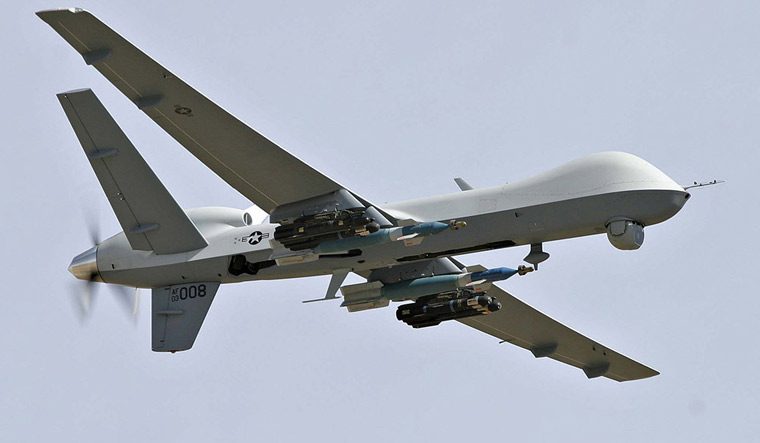 In the recent reports, the US has supplied major surveillance and other information equipment to India during the aggression at Line of Actual Control. To keep an eye on the Chinese movements in the Indian Ocean Region and Line of Actual Control, Predator drones and Boeing P8-i Aircrafts would add cutting edge Air Superiority to the Indian Armed Forces in the region.
Specifications of MQ-9 Predator Armed Drones
Endurance- 40 hours
Speed- 450 Kmph
Range- 1800 km
Service Ceiling- 50,000 ft
Engine- Honeywell TPE331-10 turboprop engine
Armament- Hellfire Missiles, AIM-92 Stinger Missiles, GBU-12 Laser Guided Bombs and Joint Direct Attack Munition
India is operating Heron and Searcher drones procured from Israel and in the near future, the Swarm drones Technology demonstrated on Indian Army Day is also in the last stage of induction in the Indian Armed Forces. The Advanced AI swarm drones have the capability to conduct Kamikaze Suicide Attacks on enemy positions.
Also Read: Sikorsky MH-60 Romeo Helicopters for Indian Navy