Vice Admiral Atul Kumar Jain, PVSM, AVSM, VSM took over as Chief of Integrated Defence Staff to Chairman Chiefs of Staff Committee (CISC) on 02 Mar 2021. On assumption of the coveted appointment, Vice Admiral Atul Kumar Jain paid homage to the Bravehearts of the nation by laying a wreath at the National War Memorial.
Vice Admiral Jain got commissioned in July 1982 into the Indian Navy. He is an alumnus of the National Defence Academy, the Defence Services Staff College (Wellington), the College of Naval Warfare (Mumbai) and the National Defence College (Pretoria, South Africa). The Flag Officer is also a graduate of Jawaharlal Nehru University (Delhi) and has received his Masters in Defence and Strategic Studies from Madras University.
Prior to his appointment as CISC, Vice Admiral Jain has held various Operational, Staff and Command Appointments in the course of his distinguished career spanning over 38 years. He has commanded four ships including the indigenously built Destroyer, INS Mysore.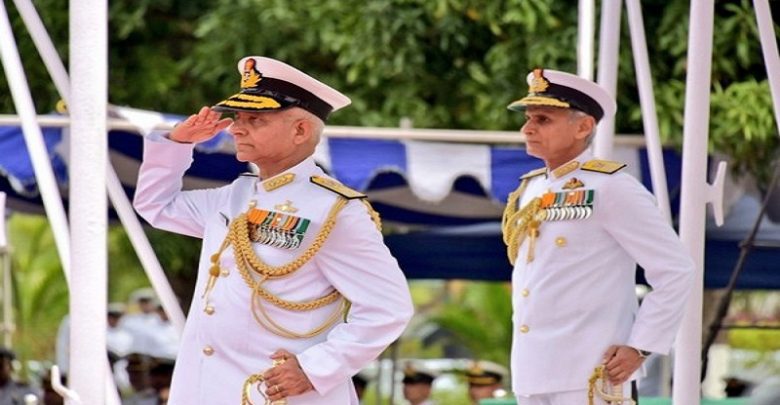 His appointments ashore include Director, Naval Intelligence (Protocol), Director, Foreign Liaison and Principal Director Staff Requirement at Integrated Headquarters, Ministry of Defence (Navy), New Delhi.
On promotion to Flag rank, he commanded Karnataka Naval Area and the Eastern Fleet and was the Dy Chief of Integrated Staff at HQ IDS at New Delhi before taking over as the Commander-in-Chief of Eastern Naval Command. For his distinguished service, he was awarded Vishisht Seva Medal in 2009, Ati Vishisht Seva Medal in 2015 and Param Vishist Sewa Medal in 2020.
Also Read: Lt Gen C P Mohanty Assumes The Charge Of Vice Chief Of The Army Staff