Cracking NDA is the first lucrative opportunity for 10+2 students. Adventure of Indian Army, Respect Discipline and leadership in life, High Perks and benefits! what else can one ask for?
Therefore, about a million students apply for NDA Examination while as few as ten-fifteen thousand manage to clear it. Why NDA is so difficult? and how to crack NDA written exam without coaching? We shall find out soon.
Quick glance at NDA Exam structure :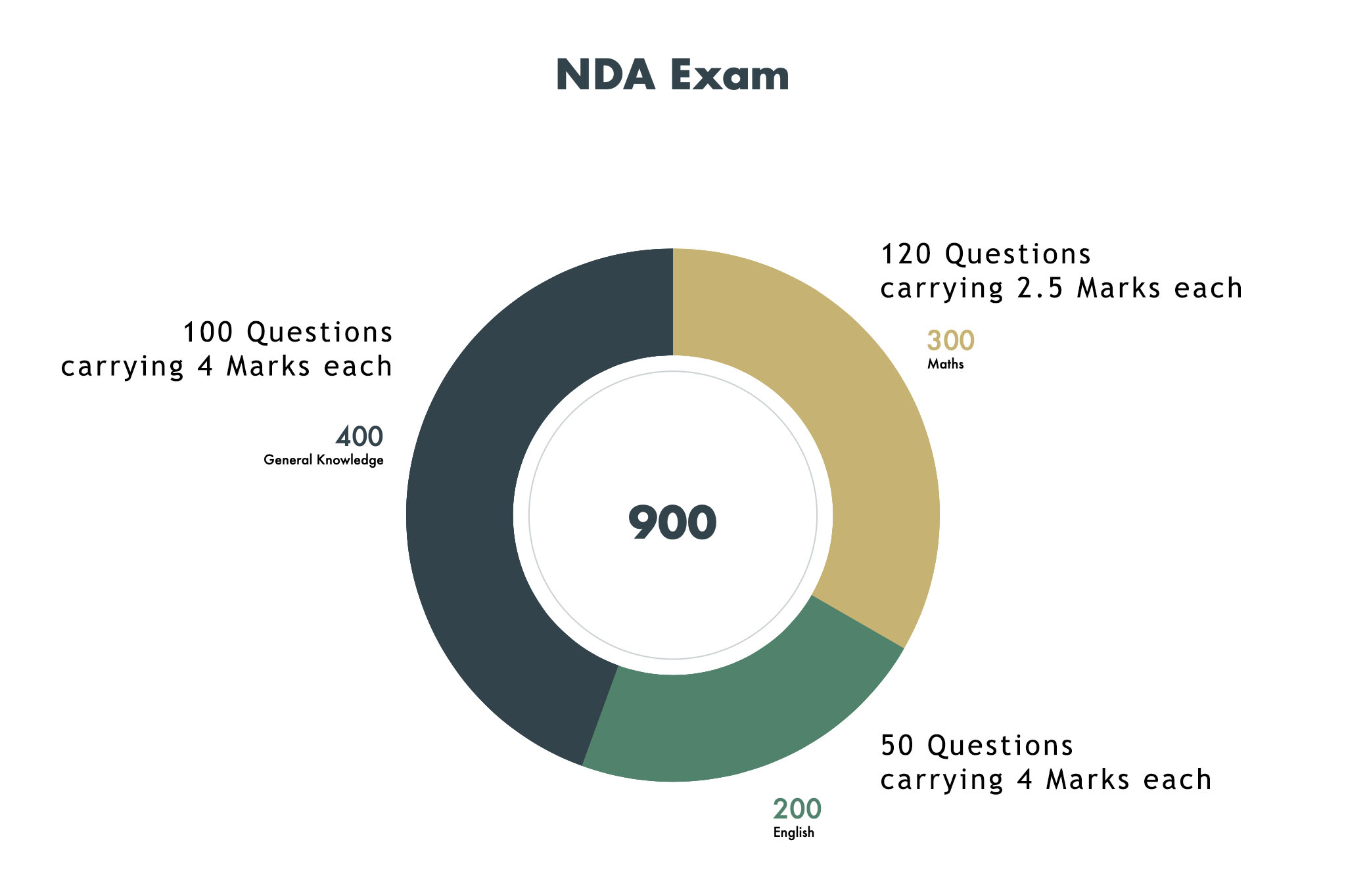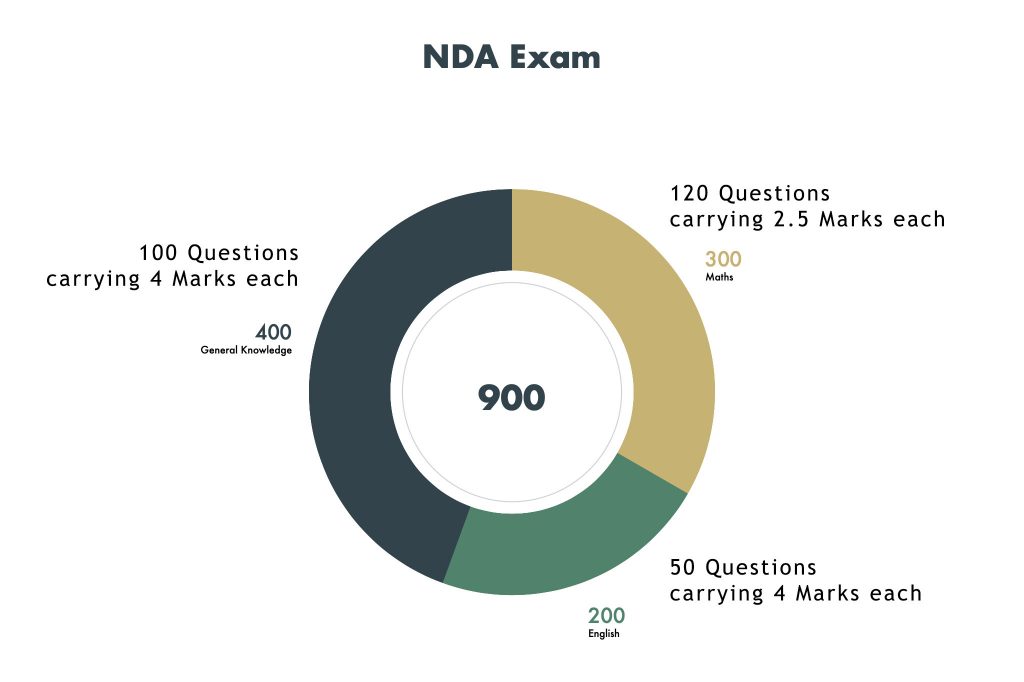 Exam
Subject
Duration
cut off
NDA
Paper 1 – Mathematics
Paper 2 – General Ability Test
2hrs 30 min each
25% each
NDA Mathematics
Mathematics consists of 120 Questions carrying 2.5 marks each making it 300 Marks paper.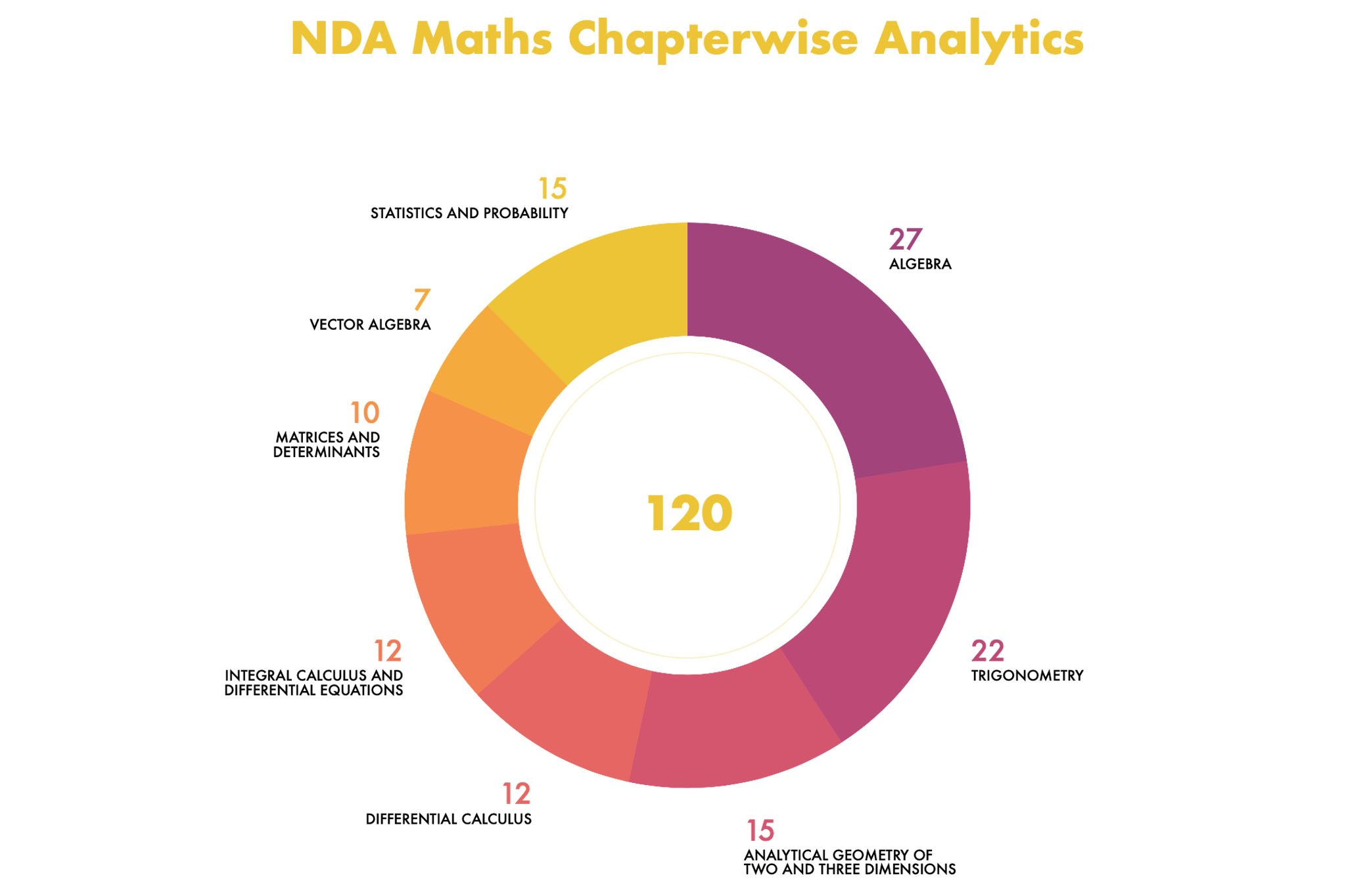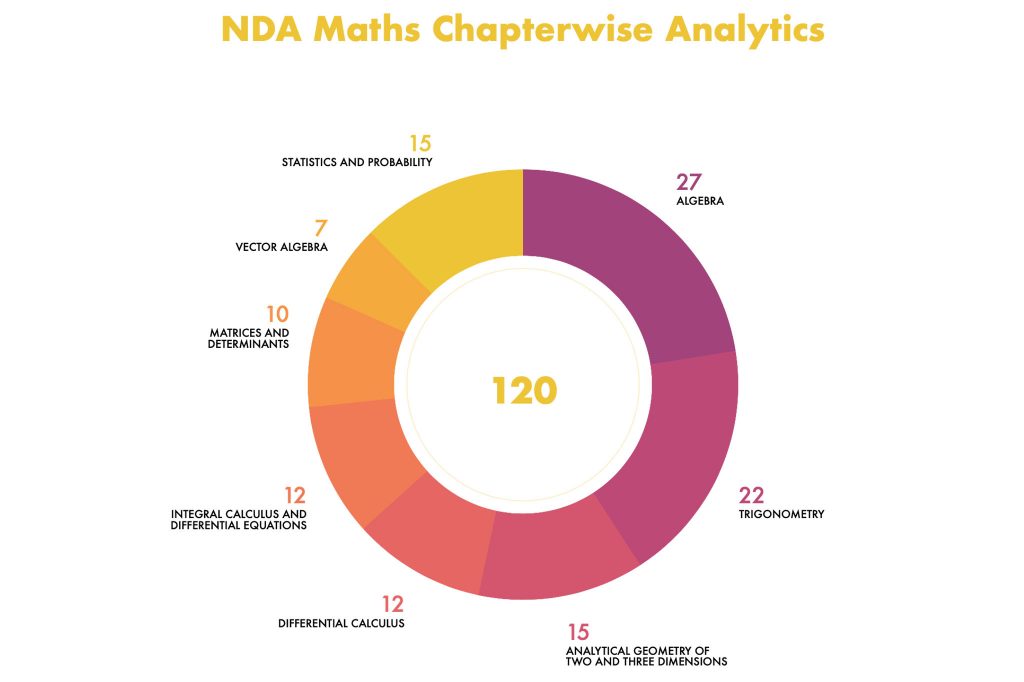 As seen in the chart above Algebra & Trigonometry alone contribute to 40% of the paper. After that, 2D & 3D Geometry, statistics & probability contribute for another 25%. Rest of the chapters add up to remaining 35%.
Firstly, We will see how one should approach this paper. Mathematics is tough and one needs serious preparation. Approach to every chapter should be by clearing fundamentals first followed by practice examples.
Only when chapter formulae, tricks, fundamentals are clear one should move to practice exercises. Practice exercises should always be divided into easy, medium and hard levels. Why?
For instance, lets say you are practicing questions and first question was a beginner level giving you confidence to solve more. Now if the second question itself is tough to solve it will be a setback for you. Therefore, you should first solve all beginner level questions for a chapter so that you have enough confidence to move to next level. In other words, it will give you a boost that you have solved entire level – 1 questions all by yourself without much difficulty. This approach will strengthen your basics.
Once your fundamentals are strong you won't be completely blank in higher level of questions and will surely be able to reach mid-way.
In addition, whichever book you are following make sure it's having complete solutions rather than half hints that eventually leaves you puzzled.
Mission NDA Math Comparision
Above all, we highly recommend you to invest your time and efforts in Mission NDA Book. It is prepared keeping in mind all the above analysis. Finally, Let us compare Maths of Mission NDA with other NDA books with different metrics.
| Metric | Mission NDA | Pathfinder | Others |
| --- | --- | --- | --- |
| Introduction of chapter | ✅ | ✅ | ✅ |
| Practice Examples | ✅ | ✅ | ✅ |
| 3 Level based Questions | ✅ | ❌ | ❌ |
| Detailed solution | ✅ | ❌ | ❌ |
| Conceptual understanding | ✅ | ❌ | ❌ |
| Previous year papers | ✅ | ✅ | ❌ |
| 100+ Most Repeated Questions | ✅ | ❌ | ❌ |
Most importantly, If you have solved previous year papers you know that time is essential. Hence you need to be quick! but don't worry about speed initially. Once you start solving questions you'll automatically gain speed.
That being said if you prepare from Mission NDA Book you can easily attempt 70+ questions and score 180+ marks in Mathematics.
Pro Tip : Attempt only those questions that you could completely solve in exam and you won't have to worry about negative marking.
NDA General Ability Test
NDA GAT is second paper in NDA exam consisting of two sections. One is 50 Questions of General English and the other is 100 Questions of General knowledge. To clarify, together they make a single paper called "General Ability Test". Lastly, There is no separate cut off for English and GK.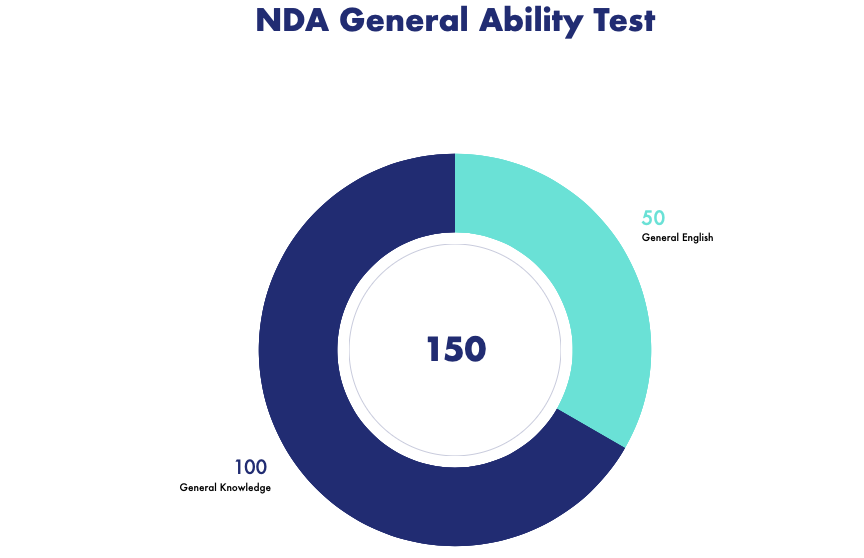 This section is massively a turning point for candidate to Crack NDA because unlike Maths, weightage of every question in this paper is 4 Marks.
Now, I have seen people telling to read 6-7 different books for GK. A separate book for History, polity, geography! That's just ridiculous.
Given the limited amount of time that a 12th class student has, student cannot leave aside his 12th studies and focus on individual books. Further, even if he does rely on these will he be able to remember entire stuff? Does everything he had studied surely come in NDA Exam?
The answer is a Big NO!
NDA Aspirant doesn't wish to do PHD in these individual subjects. All he needs to do is learn enough to crack his exam. He has to become a leader in Armed forces, deal in military warfare and not history and politics. So what should a NDA Aspirant do?
The answer is that he should study smart. By this i mean he should focus only on things that are relevant to NDA Exam! let's say you want to study about Indus Valley Civilisation. How much time do you need?
Crack NDA with Smart Approach
If you were to go with Smart Study then hardly 10 Minutes to know everything regarding Indus Valley civilisation with respect to NDA Exam. Have a look!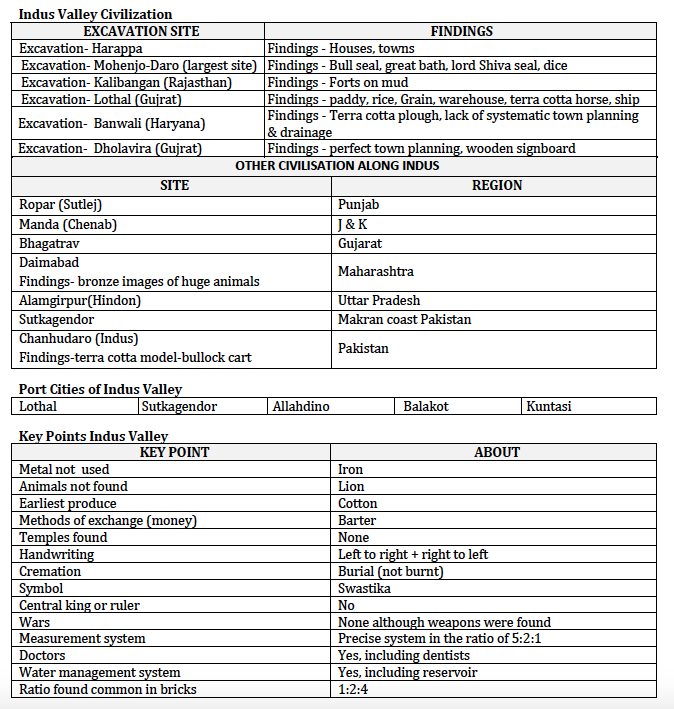 Studying the same through books you would have taken days and still you wouldn't have covered everything. These smart notes are completely worth it!
Most of all, these smart notes are made for every subject for e.g a topic on world geography.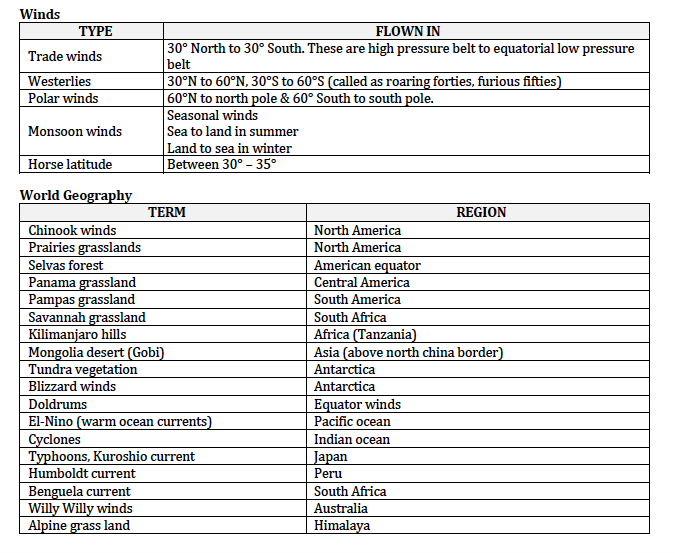 If you can make such notes Good Enough! Else save your precious time as all these smart notes for every section of Gk is already available in Mission NDA book. Mission NDA also covers model test papers for MCQ practice later on.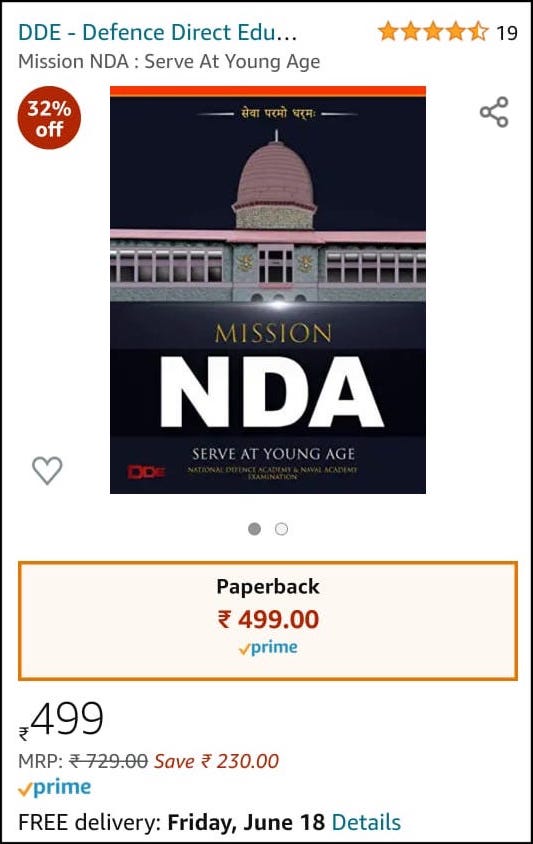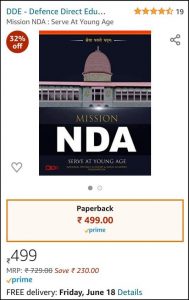 In English section, Mission NDA book covers introduction to each chapter followed by practice question and detailed explanation.
Mission NDA GAT Comparision
| Metric | Mission NDA | Pathfinder | Others |
| --- | --- | --- | --- |
| Introduction | ✅ | ✅ | ✅ |
| Comprehensive English | ✅ | ✅ | ❌ |
| Point to point GK | ✅ | ❌ | |
| Model test papers | ✅ | ❌ | ❌ |
As of the Current Affairs are concerned , DDE comes up with exam specific current affairs that are available one month before NDA exam and can be downloaded online. Expect a minimum of 30 marks from these current affairs. You do not have to study current affairs from anywhere else.
Pro Tip :Even if you attempt 35 Questions in English and 40 Questions in Gk, you would have achieved 300 Marks in GK alone. Further, never do guess work in GK. You only have to attempt those that you are completely sure.
Preparing from mission NDA book, you'll be able to attempt a lot more.
Study Smart, Take it easy & Crack NDA!
Focus!, Start Your Journey Today.