In the time of the second wave of COVID crisis, No 81 Squadron IAF Sky Lords is rendering a yeoman service to the nation. The Mighty C-17 Globemaster jets are constantly airlifting oxygen tanks, containers and concentrates across the country and even ferrying to Singapore, Bangkok, Dubai and European countries for medical relief operations.
The Squadron was actively involved in supply operations during the 2020 first wave of COVID. The Mighty jets supplied Medical equipment and essential supplies during the initial days of COVID. The Squadron was also involved in bringing Indians from other nations at the time of travel restrictions due to COVID.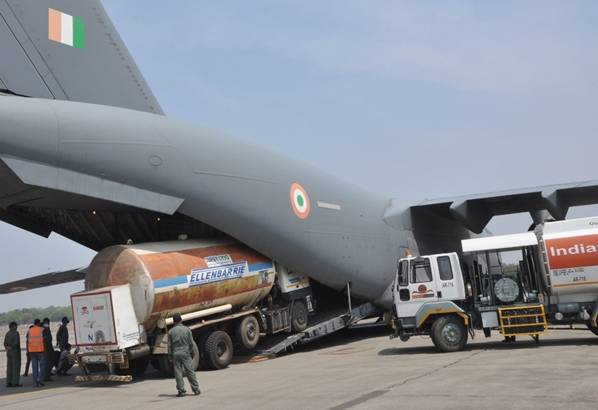 The Mighty jets of No 81 Squadron IAF Sky Lords have also involved in relief operations during natural calamities across the country. The officers and loadmasters of 81 Squadron constantly serving the country at the time of need. The Squadron also supplies food, logistics and Medical supplies to the Leh Air force station and cater for the needs of soldiers posted in Siachen Glaciers. Let it be Logistical operations, Supplies, Medical Relief and Paradrop Military operations the Mighty Skylords will be present at the spot.
The No 81 Squadron IAF was constituted in early 2013 and the first C-17 Globemaster aircraft was delivered by Boeing in January 2013. 81 Squadron was officially raised on 1st September 2013 and the last (11th aircraft) was delivered to
Indian Air Force
in August 2019.

Specifications of C-17 Globemaster III
1. Crew- 3 (2 pilots, 1 loadmaster)
2. Max takeoff weight- 265,000 kg
3. Maximum speed- 1000 kmph
4. Range- 4,400 km (Ferry range – 8000 km)
5. Service ceiling- 14,000 m
6. Engine- Four Pratt and Whitney F117-100 turbofan engines