CDS 1 2022 Answer Key
CDS 1 2022 Answer Key Of Set A, B, C and D. Union Public Service Commission (UPSC) conducted the CDS 1 2022 examination on 10th April 2022. The examination was conducted in a large number at various cities across the nation. A large number of competitors have appeared for the written test as per the schedule. CDS Exam is conducted twice a year for aspirants who aspire to join the prestigious academies like IMA, OTA, INA and AFA.
All the candidates who have appeared for the CDSE 1 2022 examination must be looking forward to check whether they have got their answers correct. Hence we are posting the answer key of various sets for English, General Knowledge and Mathematics paper.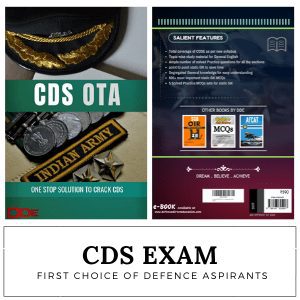 The English Paper of CDS 1 2022 was held from 9 Am to 11 Am. It consists of a total of 120 questions of 100 marks. The English paper was easy and most number of candidates could answer ample number of questions easily.
---
Also Read : CDS 1 2022 Cutoff And Exam Analysis
---
The GK paper was conducted from 12 Pm to 02 Pm. It consists of a total of 120 questions of 100 marks. The overall level of the GK paper was moderate.
The Mathematics paper was conducted from 3 Pm to 5 Pm. It consists of a total of 100 questions of one marks each. The level of paper was easy however many candidates found it lengthy.
Click on the link below to DOWNLOAD the answer key of CDSE 1 2022.
English Answer Key (Set A, B, C and D) – Download PDF
General Knowledge Answer Key (Set A, B, C and D) – Download PDF
Mathematics Answer Key (Set A, B, C and D) – Download PDF