UPSC Exam Calendar 2022
UPSC has released the exam calendar for the year 2022. Candidates are advised to have a look at the calendar and start preparing accordingly. According to the schedule NDA 1 2022 and CDS 1 2022 exam will be conducted on 10th April 2022.
As per the UPSC exam calendar 2022, the NDA & CDS notification would release on same day. The NDA & NA (1) and CDS (1) 2022 notification will release on 22nd December 2021. The exam will also be conducted on the same day that is, 10th April 2022. On the other hand NDA & NA (2) and CDS (2) 2022 notification will release on 18th May 2022.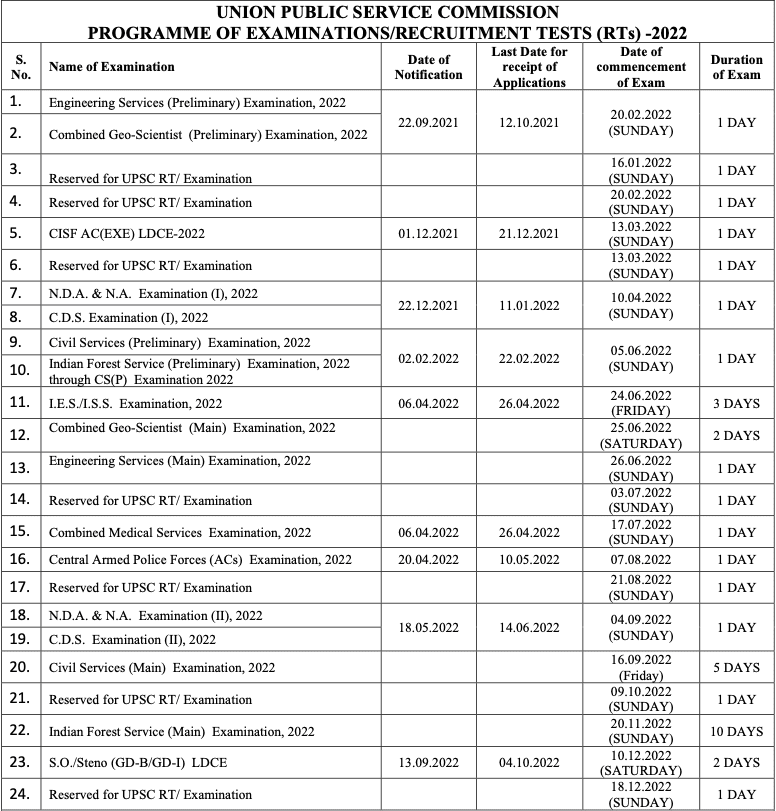 The dates of notification, commencement and duration of Examinations/ RTs are liable to alteration, if the circumstances so warrant.
Because of Covid-19, the Commission was forced to postpone the NDA (II) 2021 examinations this year. In June, the Union Public Service Commission (UPSC) stated that it had chosen to postpone the NDA examination, which was due to take place on the 5th of September. The examination will now take place on the 14th November 2021 along with CDS (II) 2021.
Important Dates:
| | | | |
| --- | --- | --- | --- |
| Name of Examination | Date of Notification | Last Date to Apply | Exam Date |
| NDA & NA (1) 2022 | 22 December 2021 | 11 January 2022 | 10 April 2022 |
| CDS (1) 2022 | 22 December 2021 | 11 January 2022 | 10 April 2022 |
| NDA & NA (2) 2022 | 18 May 2022 | 14 June 2022 | 04 September 2022 |
| CDS (2) 2022 | 18 May 2022 | 14 June 2022 | 04 September 2022 |
| CAPF (ACs) 2022 | 20 April 2022 | 10 May 2022 | 07 August 2022 |
UPSC Exam Calendar 2022 : Download PDF